Questions?
Have a question or want to provide feedback? You're in the right place! Let's Talk! is designed to streamline communication by giving you a central location to submit a question, concern, or comment. Provide your contact information and someone from our school will get back to you very soon.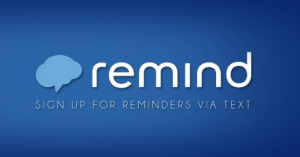 SPES is now using the Remind App to send notifications to strengthen our home and school connections, Notifications will be for things such as rainy-day dismissal and specific grade-level events happening grade level using the below codes at Sand Pine.
Parents sign up for your child's grade
Mrs. Nally has done an amazing job this year teaching MSOL. I could not be more grateful, appreciative, and impressed. She is so patient and kind through all of the 'trickiness" and "new" of online learning. I know that Jillian has had a great year this far and is learning so much.
Thank you to Mrs. Nally!! The Bohrer Family appreciates you!!
Mrs. Patton, in addition to being a wonderful, passionate teacher went above and beyond when my daughter was put on quarantine last semester when someone she had contact with tested positive for covid. Mrs Patton reached out via email and called us personally to make sure Katrina did not fall behind during the time she was at home. She's so caring and we are so lucky to have her!!! An asset to Sand Pine.
Lara Lacassin, SPES Parent
To anyone who has NEVER had to design and complete a yearbook, you need to pay attention to this shout out. It is a challenge of biblical proportions where you try to feature everyone at least once, make sure names are spelled correctly, get your material submitted on time, and the list goes on and on. Oh, and let's throw a pandemic in there just for good measure. Well, take a look at this year's yearbook. Two of my colleagues have KNOCKED IT OUT OF THE PARK!! The book looks fantastic, and I know they were running around crazy trying to get pictures of tradition kids as well as on line kiddos. Their hard work has paid off. The book is vibrant, colorful, and full of great memories of a very difficult year. Ladies (Kristen Alleger & Jeannine Lehmann), my hat is off to you for your hard work. I wanted you to hear it from me first.
Love you both, Mills
Mrs. Alleger, 
Excellent communication, great teacher, very responsive to questions. In appreciate all her hard work with my son and for the school in general.
David Jaramillo
Mrs. Forsman,
She goes above and beyond for her students and coworkers and has dedication to the Sand Pine family.
Andrew Forsman
Mr. Moore is kind and caring. The students really loved him as the art teacher and for his new position as a third grade teacher. He speaks to the children with enthusiasm and respect that they really respond to. Thank you Mr. Moore for taking on our 3rd grade class in the middle of the year! You have done a fantastic job with the transition and we appreciate you.
Holly Gunter, Parent
Mrs. Lehmann is wonderful, always with innovative ideas and a lot of love for her students. Mrs Lehmann is one of the best teachers I have ever met. Matthew and I and certainly the whole class of 20021 will miss her very much.
Ariana Cruz, parent
What can I say about Ms. Anderson! I can truly say she is an outstanding and amazing teacher. She cares for her students and it shows because my son loves going to school and gets excited about it! I want to thank her for all she does for not only my son but all the Kiddos!
Jessica Gonzalez, Parent
Mrs. Welt rose to the occasion for my school online. She learned all the tricks to zoom and did it with a smile. She told the children that we are all adjusting (parents, teachers and students) and that made the children feel comfortable. Mrs. Welt has a way with words too. She is strict in the kindest way. In 8 months I have never herd her raise her voice, even when the children were being less than cooperative. She had a way with those kiddos to make them listen and respect her. At a time when teachers were leaving, she stayed to teach and did it with a smile. And for that, she deserves a shout out. There is no reward big enough to show what she deserves.
-Ivory McGee-Perry
Compliments to the 4th grade teachers for an informative FSA parent night! We are super thankful for all the extra writing opportunities given to our kiddo to prepare him for this test! Also, Mrs. Simpson rocks!
Thank you,
The Simmons Family
I am so thankful for the Kindergarten team (Mrs. Alleger, Mrs. Romero, Mrs. Lehmann) I joined. From my first day of work, Michelle, Jeannine, and Kristen have offered me help, advice, and positivity. Being a brand new teacher at a new school can be intimidating, and I have never felt anything other than welcomed and supported. You three are wonderful teachers, women, moms, and mentors! I am so grateful to have you all around!
Thank you for everything,
Mara
Mrs. Willis is an Excellent teacher, great communicator skills and very patient. I want to thank you for your hard work with Matias and the whole class !!! Thanks for your communication in the states test !!!! Many thanks !!!!
David Jaramillo
Ms. Peck
She is a great teacher. She says funny things. She shows us that she cares by being patient with all of us.
Lily F., student
Ms Childers has been such a TREMENDOUS support to my daughter since her arrival at Sand Pine, but THIS year she has been even MORE helpful and supportive to her since coming back to school from Online Learning. She is ALWAYS there when I need her or my daughter needs her and she communicates with me and keeps me posted constantly! She's always there for my daughter when I can't be (which is a lot!) and I am able to continue my day at work (as an ICU Nurse) knowing my daughter is safe and in good hands! I could NOT be more grateful to her!!
-Linda Brock
What to say about you Sand Pine's "staff"? You are wonderful, always very polite, patient, some of you with a lot of sense of humor in which you make our days happier, others with a lot of sympathy in which you make us feel welcome at school. Its aways so good when Sand Pine is the type of school that would like my kids to stay until they grow up and ready to go to college lol. It is you the Staff that make this school be so special. It is always very good when even before I arrive at school I have a very kind reception with a nod with the wave from that gentleman, who is always very adorable. Also the traffic guards that take care of the security of our kids and the teachers who open the door always with great affection every morning so that our children can go to the classroom. One of my favorite staff is when we are leaving we are guided by that lady with so much humor and joy, she really fills my day with energy !!!! And I cannot fail to mention to all of you who work behind the cameras to make this daily work to be our best experience !!! Thank you to all of you who make our days and our children's days special !!! -Ariana Cruz, parent
Jamie C. has helped me so much with putting things on the School Website for next year's school registration on top of her clinic tasks. She is amazing with taking care of our kiddos in the clinic and I would be lost without her on our team!
-Alex T-R
Mrs. Ryan has done the best job with the MSOL students! She is so patient with all the students questions. I was concerned that my first grader wouldn't be able to stay engaged all day in front of the laptop and Mrs Ryan has made things interesting and always manages to fit in a little fun. I am so glad that we had her as a teacher this year!
-Alicia Willis, Parent
Mighty Miller is a wonder! She's always so positive, kind, funny, and caring. She has helped my son directly with a speech problem, but I think how she helps the entire school is just as amazing as the special care she gives to her speech students.
My son is 19 years old now. He attended Sand Pine from 1st through 5th grade. My oldest daughter attended K through 5th. My youngest daughter is a kindergarten student now. All of that is just to say that I am so very grateful that all of my children have had Mighty Miller in their lives, even though just one actually worked with her directly. My two children who have graduated from Sand Pine still love her very much, and of course my kindergartener adores her as well. I can't think of person, outside of our family, that any of my kids would rather see.
Least importantly, but still important, Mighty Miller has always made me smile. Whether it be daily in the car line or a special event like bingo night, she has a personality that is infectious in a wonderful way! She's not only helping Sand Pine students, but Sand Pine parents as well on a daily basis.
I think I've written more than a typical "shout out", but Mighty Miller is much more than a typical school employee. I want to give a big, heartfelt THANK YOU to Mighty Miller for ALL of the wonderful things she does.
Greg Johnson, parent
Thanks you All Sand Pine staff without your hard work from custodians to cafeteria staff, teachers to security, nothing would it possible without you guys!!!! Thanks for your hard work with all these kids, your dedication and love for what you do!! You guys make everything possible !!!! God bless you and your families be safe !!!!! Go cranes !!!!!
David Jaramillo
Mrs Richards stepped in to fill some big shoes in 5th grade during the 3rd quarter. She has shown nothing but grace and kindness to her class. She is patient and understanding and goes above and beyond for her students. She is such a pleasure to work with. Great job, Mrs. Richards! We are so glad to have you as part of our Crane family.
-Jessica Medina
Ms. Toth,
Thank you so much for all of your hard work and dedication. You have done an amazing job this year. It could not have been easy to start in the middle of the year, but you did it gracefully and kept the momentum of the class and curriculum going.
We are very grateful and appreciative!
The Bohrers
I observed Mrs. Romero teaching her kids about plants and roots. After she finished the lesson, they took a quick trip right outside the classroom to see her lesson in action. She and the kids pulled weeds out of the ground and they observed the root systems, they discussed what they saw and the differences. This was definitely a lesson the kids will not forget. They were having so much fun, so engaged and really understood the lesson. Great job Romero!!
Jamie Childers – staff